Конкурс за праксу Procter & Gamble d.o.o. / Обавештење
---
---
Због природе практиканске позиције и неопходности за знањем енглеског језика, преносимо оглас у изворном облику. Рок за пријаву: 10. 11. 2020.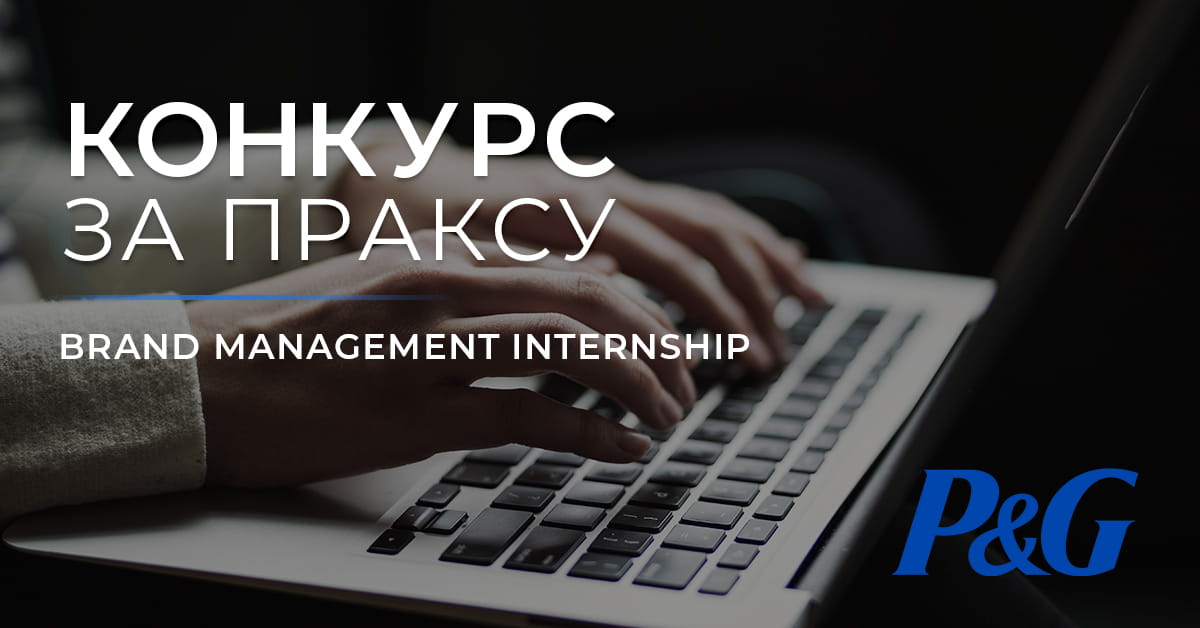 ---
Brand Management Internship (Belgrade)
You are a student looking for a challenging and paid internship? Come and live the P&G business experience! Did you know P&G invented the concept of brands and brand management? Over the years, we have remained consistently on the state of the art of marketing, always finding new and exciting ways to reach consumers, from the classic store to the most sophisticated digital technology. This is why some of the world's best marketing professionals and business leaders started at P&G. Our brand management philosophy can be summed up in a simple concept: "Consumer is the boss", and we believe we have 3 moments to win with consumers' preference:
when they browse for your product on the internet,
when they choose to buy our product in the store and
when they use it at home
These are what we call the '3 moments of truth'. The first two moments is what we, at Marketing, focus on when we market products.
---
YOUR MISSION:
As a Brand Management Intern, you will be responsible to deliver on-time and quality communication plans and executions for P&G brands such as Ariel, Pampers, Gillette, Oral B, Always, Head&Shoulders across the biggest retailers in Serbia. Key responsibilities include planning and delivery of important materials, analysis of customer campaigns, budget planning and stewardship, while working closely with different functions outside Brand Management such as Sales, Finance, Supply Network Operations. We are an equal opportunity employer and we value diversity at our company. We will ensure that candidates with disabilities are provided reasonable accommodation to participate in the job application or interview process, to perform essential job functions, and to receive other benefits and privileges of employment.
---
WHAT WILL AN INTERNSHIP IN P&G OFFER YOU:
Responsibilities as of Day1 – You will be given your own projects and responsibilities to lead which will have a business impact
Recognized groundbreaking marketing skills – we offer you the opportunity to test your marketing knowledge and management abilities in real-life situations and obtain insights into the world of brand & business management
Continuous learning coaching – you will work with passionate people and receive ongoing formal training via web-based and classroom trainings to build your management and Marketing skills as well as day-to-day coaching from your manager and colleagues to help you excel at your projects
Dynamic, diverse and respectful work environment – Serbia is part of the South East Europe cluster, comprised by 10 countries and with the HQ being in Bucharest, our working environment is highly multicultural. Employees are at the center, hence we value and respect every individual, the background and strengths they bring to our organization. We also support and encourage initiatives while promoting flexibility @ work.
Competitive salary package and benefits.
---
QUALIFICATIONS
Doing a paid internship at P&G is the way to get to know the company and for the company to get to know you, meaning that a lot of time will be invested in your development. The end of a successful internship with us could find you with a recommendation for hiring upon completion of your studies. The duration of the internship is 3 months.
---
WE ARE LOOKING FOR:
Students in their final or semi-final year of Bachelor degree and above or following a Master degree, coupled with a Marketing interest/passion;
Evidence of passion, leadership and achievements in academic and/or non-academic activities;
Analytical and critical thinking;
Excellent command of the English language both written and spoken